JINERGY
Jinergy is the strategic ILB partner for high quality solar modules supply
Jinneng Group Co., Ltd. (Jinneng Group), merged and reorganized with original Shanxi Coal Transportation and Sales Group Co., Ltd. and Shanxi International Electricity Group Limited Company, is a large state-owned integrated energy group.
Jinneng Group aims to build itself into one of the first-class modern energy groups with the pattern of "clean use of traditional energy and efficient development of clean energy". By deepening enterprise reform and business upgrading, Jinneng Group have established and improved the industrial system featured by "clean energy as main business, coal, electricity and real estate as supplementary, modern service and finance as new industry".
In 2019, Jinneng Group reported revenue of USD 15.4 billion (RMB 105.8 billion) and profit of USD 609 million (RMB 4.18 billion). In the renewable energy business sector, installation capacity in service and under construction has achieved 2.65GW, power generation reached 2.26 TWh and PV manufacturing technology reached highly advanced standards.


Clean Energy Power Generation 2.26TWh

Clean Energy Installation Capacity in Service and under Construction 2.65GW

Annual Revenue USD 15.4 billion
About Jinergy
Consisting of PV experts from home and abroad, Jinergy's management and R&D teams follow the core strategy of technology iterations. And through continuous technological innovation and lean production, Jinergy has reached the goal of edging into global top 5% most advanced and cost-effective cell & module production capacity. With commitment to global coverage, Jinergy extends its business in China, India, Japan, Pakistan, Mexico, Argentina, Australia, Ukraine, etc. and supplies customers with high quality and reliable Polycrystalline Silicon, PERC Monocrystalline Silicon and HJT solar modules. Driven by technological innovation for industrial progress, Jinergy is bringing the advanced solar modules manufacturing technology to the world and is driving global energy structure transformation.

470 W
Super High efficiency HJT C-SI Module
Leading technology & quality, 100% reliable, simply convincing about: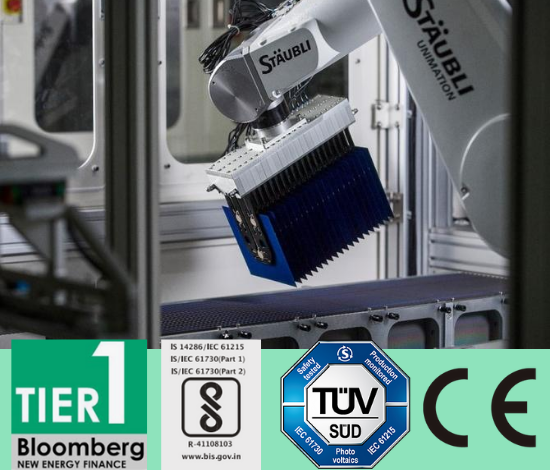 Big state owned company with 15.4 Billion USD turnover
Bloomberg Tier 1 Listed
Global TOP 500 clean energy company in the 5th consecutive year
International R&D Team
Newest high-tech 4.5 GW module production according to 4.0 industry standard
Jinergy Attends PV EXPO 2020 in Tokyo with 530W HJT Module
Jinergy Won the "2019 Module Technology Breakthrough Award"
Jinergy Received the Most Influential Module Enterprise CREC Award in 2019
Continuously increasing R&D investment and efforts, and successfully ranked among the top world 5% cell and module manufacturers in terms of technology and cost competitiveness
Jinergy was China's first Company that realized mass production of HJT Solar modules
Jinergy solar modules have excellent weak light performance
Fire rated solar modules according EN61730-2
Excellent temperature coefficients for highest possible power output
Low degradation for highest energy production over the module life time
High efficient monocrystalline solar modules with Ga-doped silicon wafer, effectively reduces LID and LeTID. SE technology effectively improves cell conversion efficiency
Optimized anti-reflective film and high-impedance encapsulating
Solar modules with fire resistance according to EN61730-2
Solid solar module guarantee from a big & financial strong state owned company
Jinergy is at the moment one of the only two HJT solar modules cell manufacturers in China
Mass Production, Pilot Production & Research
Three generations of products in iterative development